Sep 29, 2021 09:00 AM to 05:00 PM
Online
Registration Deadline:
Sep 28, 2021 05:00 PM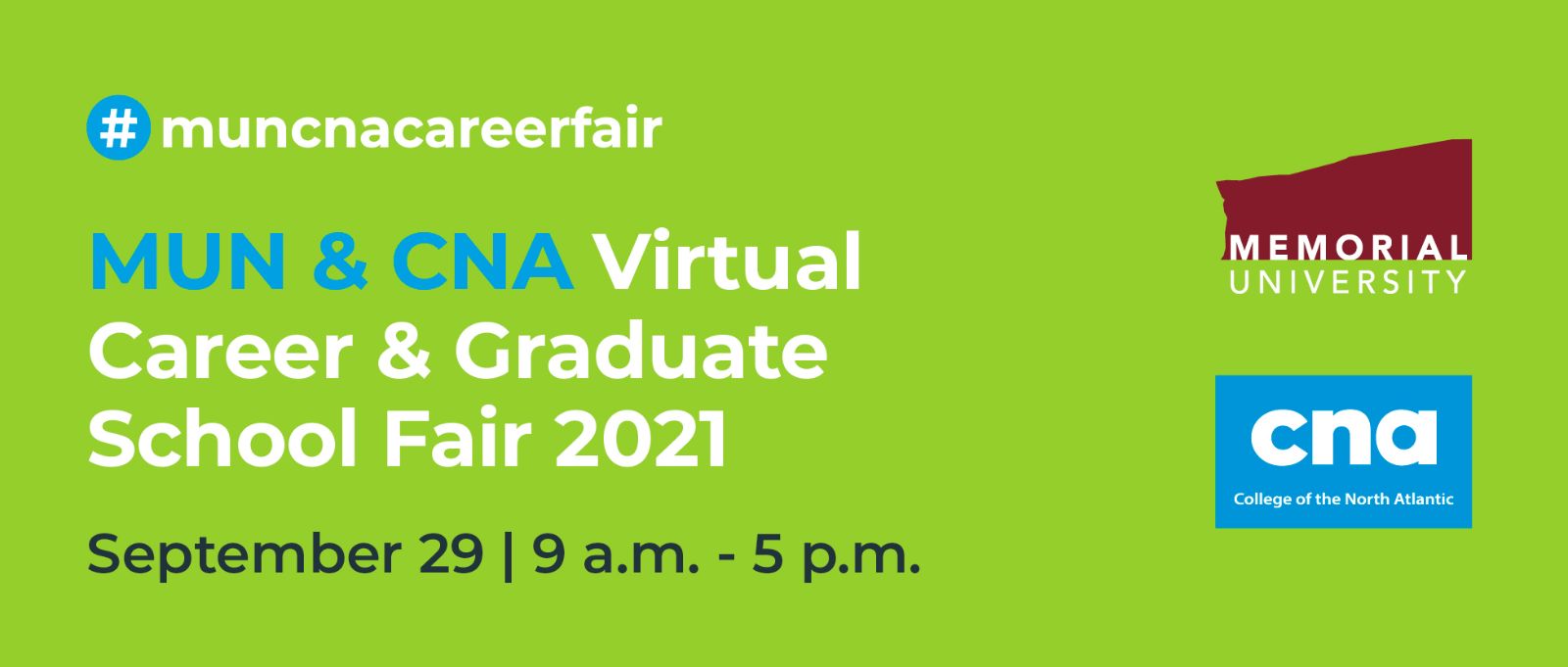 The 2021 Career & Graduate School Fair is a partnership between College of the North Atlantic and Memorial University, and will be taking place on Thursday, September 29, 2021.
This year's event is online. After an organization's registration is reviewed and approved, the organization's contact person listed on the registration form will be provided details with the next steps for preparing for the event.

Payments accepted by credit card or invoice.
Due to remote working, payments by credit card are strongly encouraged and appreciated.
Invoice payments are due by Friday, September 24, 2021.
Please submit payments of invoice (include invoice #) to the following:
Career Development, Student Life
Memorial University of Newfoundland
Smallwood Centre, UC-4002
St. John's, NL A1C 5S7

Exhibitor Registration includes:
All packages include taxes and are in Canadian dollars.
Online Fair Package ($249)
Organization logo and name on the public Exhibitors List on the Career and Graduate School information website
Employer profile page in the online platform to adapt to your organization's recruitment needs and brand
Online meeting room tool to meet with students/alumni for engagement and recruitment

Flexible online meeting rooms include options for text and video chat functionality and the ability to interact in groups or one-on-one

Access to candidate profile details after the event to facilitate your recruitment process
Support documentation on creating your profile and leveraging the platform's tools (available after registration)
Customer Service contact:
Danielle Jackson
Email: djackson@mun.ca

Notice:
The information on this form is collected under the authority of Memorial University Act (RSNL 1990 Chapter M-7) and is for the purpose of employer registration for the Career and Graduate School Fair. Personal information will not be disclosed except as authorized by law. Questions about the collection and use of personal information may be directed to Career Development (Student Life), careerdevelopment@mun.ca, 709.864.2033.
This event is virtually hosted by College of the North Atlantic and Memorial University. Your use of
CareerEco
's platform is subject to CareerEco's terms of service and privacy policy.